Chicken Katsu Curry with Rice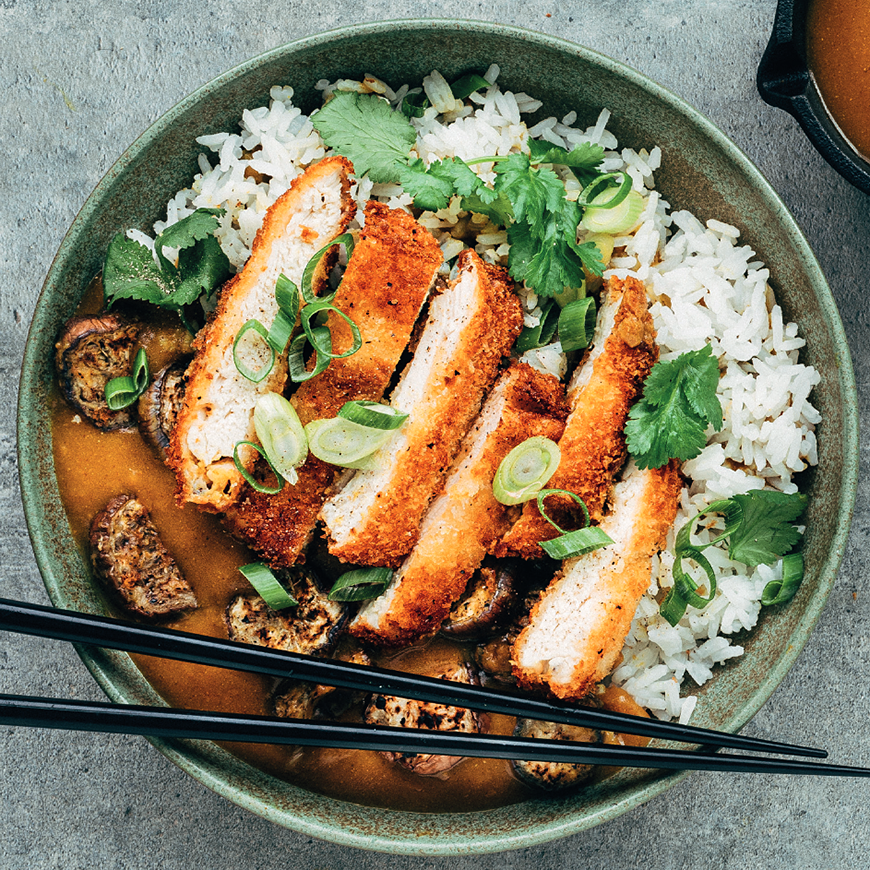 FOR 4 BOWLS:
4 chicken breasts (400 g in total)
salt
300 g rice of your choice (traditionally short-grain rice)
400 g (Japanese) eggplant
2½ tbsp sunflower oil, plus about 500 ml
1 onion, medium
1 clove of garlic
2 celery stalks
1 pack Golden Curry Japanese Curry Mix (92 g)
30 g flour
30 g panko breadcrumbs
1 egg, medium
2 sprigs of coriander, leaves picked
2 spring onions
Pat the chicken fillets dry with some paper towel and flatten them with a heavy frying pan to ½ cm. Season with plenty of salt and leave for 10-15 minutes.
Follow the instructions on the package and cook the rice.
Cut the eggplant into thin slices. Heat a frying pan with ½ tablespoon of sunflower oil and fry the eggplant slices 4-5 minutes per side until golden brown. Transfer to a plate and put aside.
Peel and chop the onion and garlic. Cut off the base and leaves of the celery stalks and remove the fibrous strings. Slice thinly. In a frying pan heat 2 tablespoons of sunflower oil and fry onion, garlic and celery 3-4 minutes until golden brown.
Bring 500 ml water to the boil. Break the S&B Golden Curry Japanese Curry Mix into small pieces, stir into the boiling water and leave to rest for 5 minutes until the curry mix has dissolved and the sauce is nice and smooth. Mix the sauce with the vegetables, turn down the heat and add the eggplant. Keep the curry warm.
Spread the flour across a plate, whisk the egg in a second plate, and spread the panko across a third plate. Dip each chicken breast into the flour, shake off the excess; then dip into the whisked egg and finally into the panko.
In a heavy frying pan heat about 2 cm of oil. Check the temperature by frying some panko: if the panko immediately 'dances' in the oil, the oil is ready for frying. After you put the chicken breasts through flour, egg and panko, fry them 2-3 minutes per side until the panko is golden brown. Remove from the pan and drain on a plate with a few layers of paper towel.
Roughly chop the coriander and thinly slice the spring onions. Slice the fried chicken and serve with curry and rice. Garnish with coriander and spring onions.
YOU CAN FIND AT TASTE OF ASIA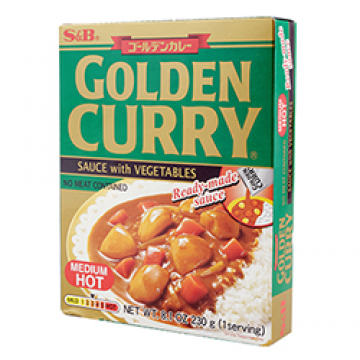 Golden Curry Mix S&B 230g