Chicken Tikka Masala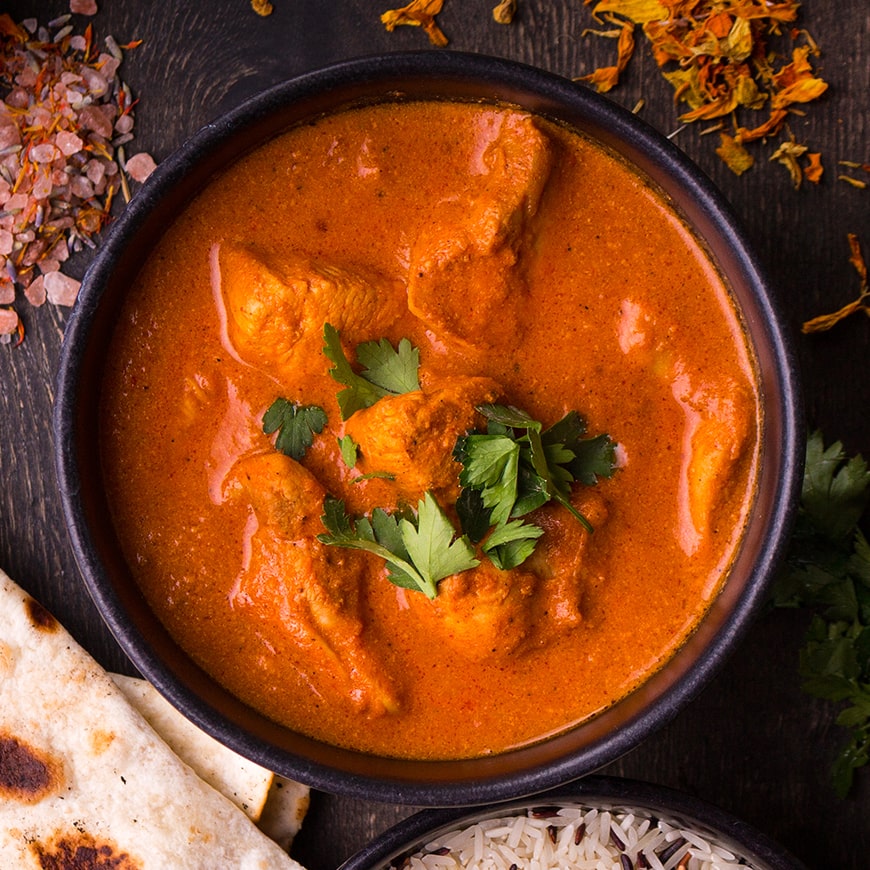 FOR THE SAUCE: 
400g tomato purée
2 tbsp vegetable oil / rapeseed oil
2 tbsp ghee (clarified butter)
1 large onion or 2 small finely cut onions
1/2 tsp garam masala
½ tsp cumin powder
1 tbsp turmeric
1 tbsp coriander powder
1 tbsp chili powder
1 tbsp salt
½ tsp

 clove, minced

¼ cup sour cream
1 tbsp brown sugar
1 pc. fresh coriander bundle / mint / parsley connection (optional)
PREPARING THE MEAT:
800g chicken breast or boneless chicken drumsticks, cut into small pieces
1 cup plain yoghurt
2 tbsp lemon juice
½

garlic clove

1 tbsp ginger
2 tbsp gram masala
1 tbsp turmeric
1 tbsp cumin powder
½ tsp chili powder
1 tbsp salt
Combine all ingredients for the marinade in a bowl, cover and let them marinate for several hours, if possible, overnight.
Heat the oil in a pan at medium temperature. Add the chicken and fry it until it's properly cooked.
After preparing the meat, start with the sauce: coat the pan with butter and fry the onion, garlic and ginger.
Add the rest of the spices (garam masala, turmeric, cumin and coriander powder). Stir for 20-30 sec.
Add the tomato purée and season it with chili powder and salt. Then add the sour cream, sugar and chicken. Cook for approx. 5-10 minutes until the sauce begins to thicken.

Serve warm with basmati rice and seasoned with coriander, parsley or mint leaves.