Green Coconut Stock with Prawns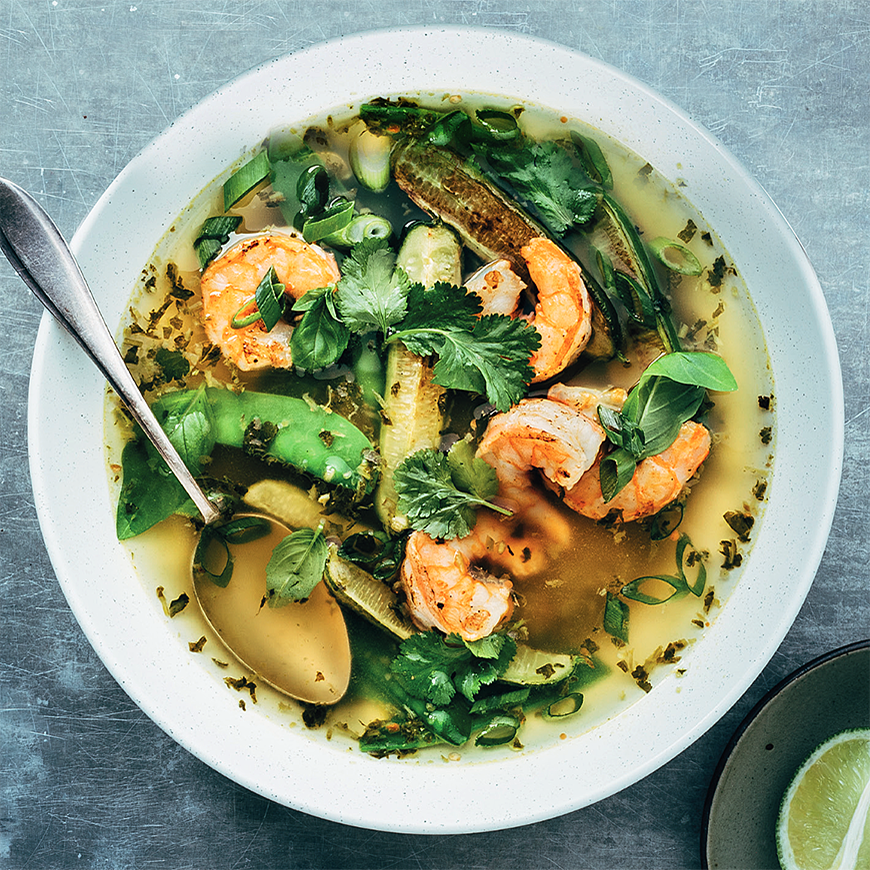 FOR 4 SERVINGS:
2 tsp fish sauce
400 ml vegetable stock
800 ml coconut water
250 g mangetout
4 cucumbers
1 tbsp sunflower oil
350 g king prawns, raw, peeled
2 spring onions
2 limes
salt
ground pepper
FOR GREEN CURRY PASTE:
4 cloves of garlic
2 cm piece of root ginger
30 g fresh coriander
30 g fresh Thai basil
6 green chillies
→ If you don't have much time, you can use a readymade curry paste.

→ You can make this meal more substantial by serving it with rice noodles. Bonus tip: substitute the prawns with tofu or chicken.

First, make the green curry paste. Peel and roughly chop the garlic and ginger. Pick the coriander and basil leaves and chop up the stalks. Deseed and roughly chop the green chillies. In a chopper or food processor blend all ingredients to form a smooth paste.
Fry the paste 1-2 minutes in a saucepan until fragrant. Add the fish sauce, stock and Chaokoh Coconut Water and stir well. Bring to the boil, then turn the heat down and leave the stock to simmer.
Prepare the mangetout and quarter the cucumbers lengthways.
In a frying pan heat the sunflower oil and fry the cucumbers 2-3 minutes until slightly browned. Add the prawns and fry them 2 minutes until cooked.
Add the mangetout to the stock and cook 4-5 minutes until soft.
Slice the spring onions into thin rings. Stir the juice of 1 lime into the stock. Divide the stock among four large bowls, add the cucumber and prawns, and garnish with spring onions, coriander and basil leaves. Season to taste with salt and pepper. Cut the remaining lime into wedges and serve them with the stock.
YOU CAN FIND AT TASTE OF ASIA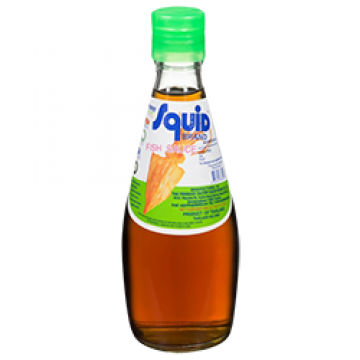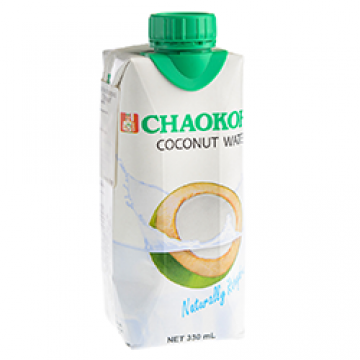 Coconut Water Chaokoh 330ml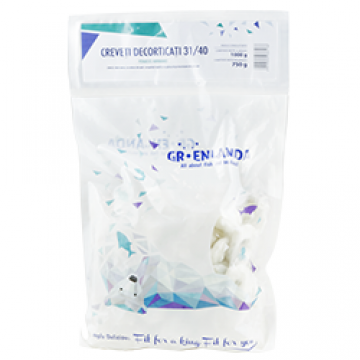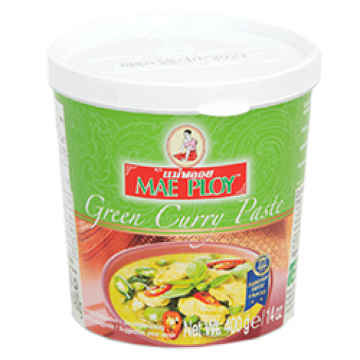 Green Curry Paste Mae Ploy 400g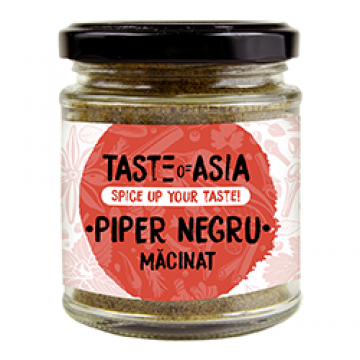 Ground Black Pepper TOA 90g