Miso Veg with Sushi Rice and Pickled Ginger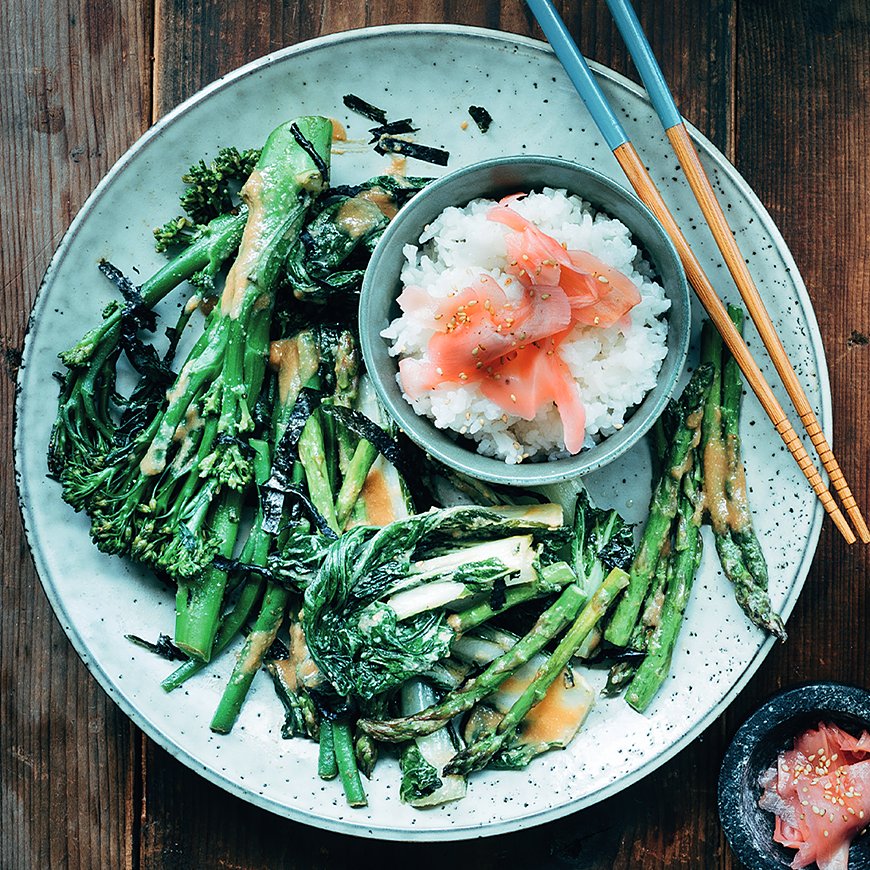 FOR 4 SERVINGS:
300 g sushi rice
200 g green beans
250 g broccolini or (baby) broccoli
1 bok choy
1 clove of garlic
1 cm piece of root ginger
2 tbsp sunflower oil
150 g green asparagus tips
½ sheet Nori
15 g pink sliced pickled ginger
2 tsp toasted sesame seeds
salt
FOR MISO SAUCE:
2 tbsp organic white miso paste
1 tbsp soy sauce
3 tbsp sesame oil
3 tbsp rice wine vinegar
→ Swiss chard is the best substitute for bok choy. You can also use napa cabbage but the texture will be different.

Follow the instructions on the package and cook the sushi rice. Leave it to cool completely.
For the miso sauce mix the white miso with the soy sauce, sesame oil and rice vinegar. Whisk vigorously to make a smooth sauce.
Prepare the green beans and broccolini or broccoli and cook for 4 minutes in a pan of boiling water.
Shred the bok choy in 2-3 cm strips. Peel the garlic and ginger and thinly slice both. In a wok, heat the sunflower oil and fry garlic and ginger for 1-2 minutes. Add the bok choy and stir-fry until it is wilted.
Add the green beans, broccolini or broccoli, and asparagus tips. Pour the miso sauce on top of the vegetables and toss until all vegetables are covered with a thin layer of sauce. Stir-fry 2-3 minutes until all veg are cooked.
Serve the miso veg with the sushi rice. Slice the nori into thin strips and scatter over the veg. Season to taste with a little salt, garnish with sesame seeds and serve with pickled ginger.
YOU CAN FIND AT TASTE OF ASIA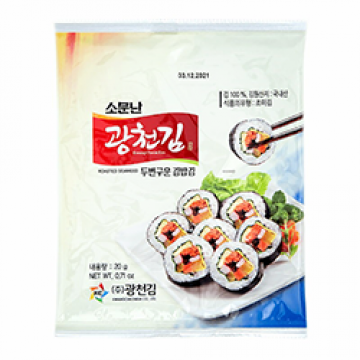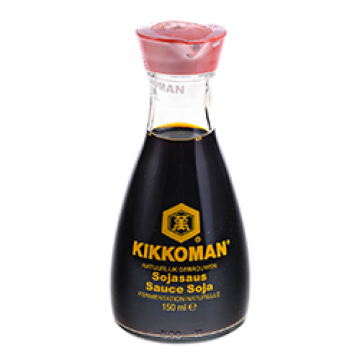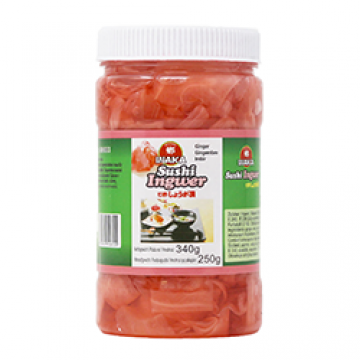 Pickled Ginger INAKA 250g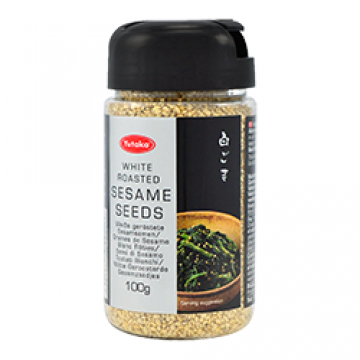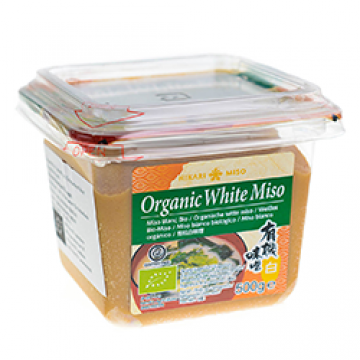 White Miso Paste Hikari 500g