Pad Thai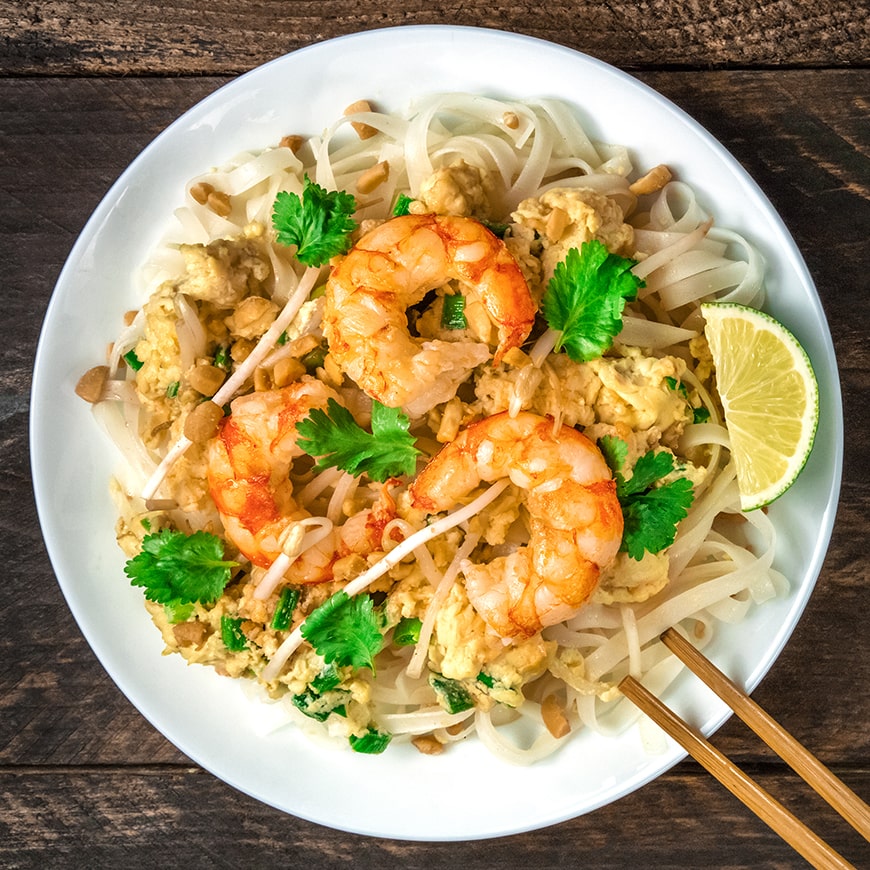 300g shrimp or chicken breast cut in pieces
3 tbsp vegetable oil
200g rice noodles
2 minced garlic cloves
200g tofu
2 eggs
1 cup soybean sprouts
1 thinly sliced red bell pepper
3 diced green onions
½ cup chopped hazelnuts
2 limes
½ cup coriander
FOR THE SAUCE:
2 tbsp fish sauce
1 tbsp soy sauce (not too salty)
5 tbsp brown sugar
2 tbsp cooking rice wine (or tamarind paste)
1 tbsp Sriracha sauce (or more, by taste)
Prepare the rice noodles according to the instructions on the package.

Cut the tofu and place it in a pan coated with vegetable oil on medium heat. Then add the garlic, bell pepper and the shrimp or chicken. Cook the shrimp quickly, about 1-2 minutes on each side, or until they become pink. If you use chicken, leave it until cooked.

Slide the cooked dish on one side of the frying pan and coat the free side with oil. Scramble the eggs on the free side. While they are cooking, mix with a spatula.

Add the noodles, sauce, soybean sprouts and some of the hazelnuts, then mix them together.
Finally, season with green onions, the remaining hazelnuts, coriander and lime. Serve warm.