Wonton Shrimp Soup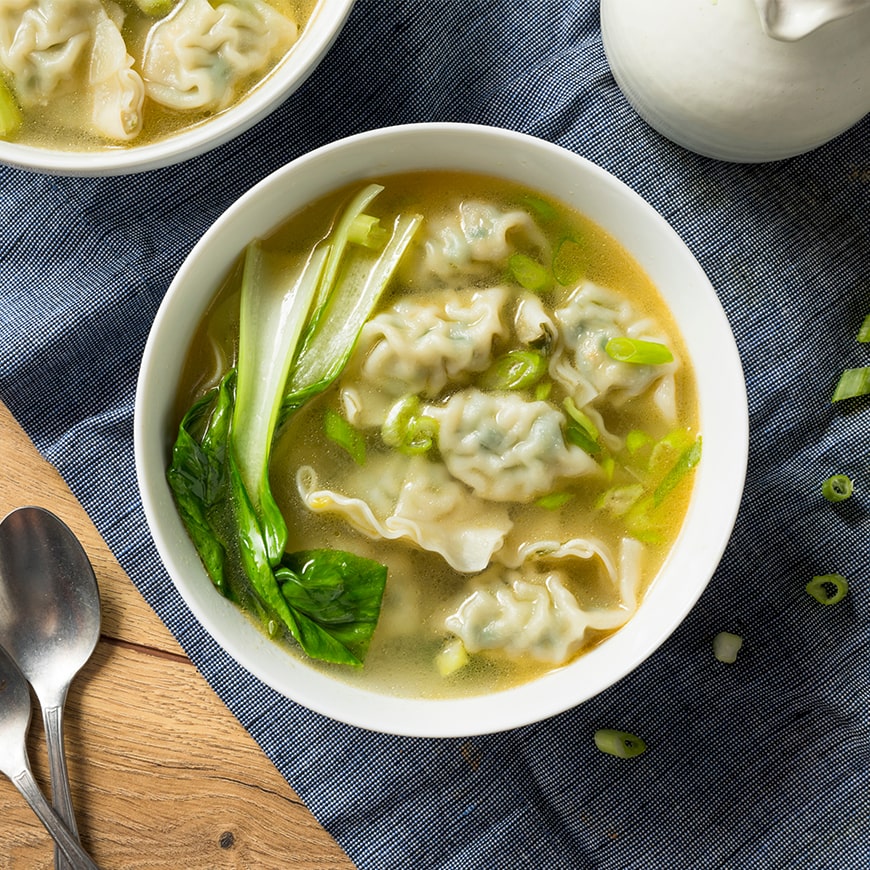 FOR THE SOUP:
4-5 cups of soup stock
1 pack ramen noodles (wheat noodles)
2 Shiitake mushrooms
4 thin ginger slices
2 garlic cloves
1 green onion
2 tbsp light soy sauce
2 tbsp fish sauce
2 bok choy / pak choy
(can be replaced with spinach or Chinese cabbage)
FOR THE WONTON DUMPLINGS:
30 wonton wrappers
500g minced meat
500g minced shrimp
1 tbsp cooking wine
1 tbsp light soy sauce
1 tbsp sesame oil
½ tsp corn starch
1 tbsp sugar
Set the wrappers aside and combine the rest of the ingredients for the dumplings in a large bowl. Stir in a circular motion until it's well mixed.

Add a spoon of this filling in the center of each wonton wrapper. Moisten the corners with warm water and fold them together to form a small sachet.

After preparing the dumplings, move on to the soup: in a pot add the soup base, ginger, green onion, Shiitake mushrooms and garlic. Place it on the stove and cover it with a lid. When it starts to boil season to taste with soy sauce and fish sauce.
After around 5-10 minutes, remove all solid ingredients and add the bok choy cut in vertical strips. Boil them for 2 minutes, remove, and put the dumplings in their place. Let them boil between 4-6 minutes, or just until they begin to rise.
Separately prepare the noodles according to the instructions on the package.
For serving, place the noodles and bok choy in each bowl and pour the soup over them together with the wonton dumplings. You can garnish with green onions.